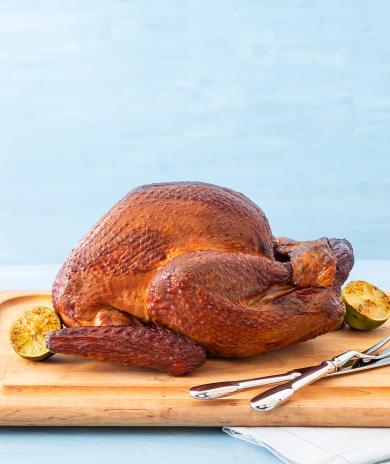 Terms & Conditions of Use
Butterball.com Terms & Conditions of Use
Review our Terms and Conditions and discover what people can and can't do with the information found on our site. Follow these rules and enjoy visiting our site.
You may use any information you find on our site or share it with friends and family members, but you may not publish information contained on this site for profit or any other purpose.
 
No part of this site may be modified, copied, reproduced, republished or disseminated without our written consent.
 
Information on our site is content that belongs to Butterball, LLC, and should not be used in any way that violates copyright or Butterball's other intellectual property rights.
 
Butterball® reserves the right to modify, suspend, interrupt, or terminate operation of this site.
 
Any comments you submit to our site will be considered nonconfidential and nonproprietary, and should not be used to defame or hurt anyone. Butterball may modify or delete any comments you submit.
Please read these Terms and Conditions carefully before using this Web site.
Thank you for visiting our Web site (the "Site"). The Site is owned and operated by Butterball, LLC ("Butterball") and is governed by these Terms and Conditions of Use (this "Agreement"). This Agreement is a binding agreement between Butterball and you, the user ("You"). This Agreement states the terms and conditions under which you are authorized to use the Site. By accessing or using the Site, you agree to be bound by the terms and conditions of this Agreement. If you do not accept the terms and conditions of this Agreement, please do not use the Site.
Butterball reserves the right, in its sole discretion, to change, modify, move, add or remove portions of this Agreement, from time to time, without notice to you. Your continued use of the Site following any such changes will constitute your acceptance and agreement to be bound by such changes. As long as you comply with this Agreement, Butterball grants you a personal, non-exclusive, non-transferable, limited privilege to enter and use the Site. If any provisions of these Terms are unlawful, void or unenforceable, it will not affect the validity or enforceability of any other provisions.
You may not engage in harvesting of e-mail addresses or other personal information or any other activity with the purpose of obtaining lists of users or other information You will not use any Site in any manner that could damage, disable, overburden, or impair the functionality of the Site or interfere with any other individual's use or enjoyment of the Site.
Privacy
Butterball's privacy policy applies to the use of this Site, and its terms and conditions are expressly made part of this Agreement by reference. Your use of this Site is also subject to the Privacy Policy.
Account Registration
This Site may require you to create an account to participate or to secure additional benefits. You agree to provide and maintain true, accurate, and complete information in connection with our use account registration prompts (collectively "User Data"). You agree to promptly contact us regarding any unauthorized use or access of User Data, including your username, password, or other personal identifying information or of any other breach of security you learn of involving this Website.
Product Purchases
All prices listed on the Sites are in U.S. dollars. You agree to pay the price that is stated at the time of order, along with any applicable sales taxes. Prices and availability of products and services are subject to change without notice. Butterball strives to avoid errors in pricing and product information. Nonetheless, errors occur and will be corrected when discovered. Butterball reserves the right to withdraw any stated offer and to correct any errors, inaccuracies or omissions including after an order has been submitted and whether or not the order has been confirmed and your credit card charged. If you believe someone has made unauthorized use of your account or you are being charged for a product or service that you did not receive, please use the contact us link on the Sites or write to us at Butterball Consumer Affairs, P.O. Box 1547 Kings Mountain, NC 28086 or call our Consumer Affairs Department at 1-800-BUTTERBALL (800-288-8372) weekdays from 10 a.m. to 7 p.m. CST. All sales made through the Sites are subject to Butterball's return policy.
Promotional Codes
Unlike credit or debit cards, promotional codes whether on digital coupons or provided by Butterball in some other manner, are debited at the time an order is placed. Promotional codes will automatically be redeemed up to the total purchase amount. Promotional codes must be used prior to their expiration date and within a single transaction. Neither promotional codes nor digital coupons will be replaced if they are lost, stolen, deleted, or if you cancel or return your purchase. In the event of a reduction in price below the coupon or code value, the excess value of the coupon or code will not be refunded. For more information, review details of each respective digital coupon or promotional code offer.
Copyright Complaint Policy
If you believe that materials hosted by us infringe your copyright, please provide the written information requested below. (To contact us for any other reason, please use the contact us link on the Sites.)
Please provide the following information in the following order:
A clear identification of the copyrighted work you claim was infringed.
A clear identification of the material you claim is infringing the copyrighted work, and information that will allow us to locate that material on the Sites, such as a link to the infringing material.
Your contact information so that we can reply to your complaint, preferably including an email address and telephone number.
Include the following statement: "I have a good faith belief that the material that is claimed as copyright infringement is not authorized by the copyright owner, its agent, or the law."
Include the following statement: "I swear, under penalty of perjury, that the information in the notification is accurate and I am the copyright owner, or am authorized to act on behalf of the owner, of an exclusive right that is allegedly infringed."
The notice must be signed by the person authorized to act on behalf of the owner of an exclusive right that is allegedly infringed.
Notices of claims of copyright infringement on any Butterball Site should be emailed or mailed, at your choice, to [email protected] or to:
Butterball
Attn: Copyright Infringement Notice
PO Box 1547
Kings Mountain, NC 28086
We recommend that you consult your legal advisor before filing a notice or counter-notice. You may be liable for damages (including costs and attorneys fees) if you make a false claim of copyright infringement. We will review and address all notices that comply with the requirements above.
In accordance with the Digital Millennium Copyright Act and other applicable law, we have adopted a policy of terminating, in appropriate circumstances and at our sole discretion, submitters who are deemed to be repeat infringers. We may also, at our sole discretion, limit access to the Sites of any users who infringe any intellectual property rights of others, whether or not there is any repeat infringement.
Liability and Other Disclaimers
Butterball is not liable for any statements, representations or User Content provided by its users on the Sites. The Site and all Content are provided "As Is" and "As Available" with no warranty at all. Butterball specifically disclaims any warranty, express or implied, with respect to the Site or the products or services listed there, including warranties of merchantability, availability, error-free access or fitness for a particular purpose. Butterball is not liable under any legal theory for any damages or injuries that result from your use of the sites or the content, and will not be liable to anyone for any indirect, special, incidental, punitive or consequential damages. Some jurisdictions do not allow certain liability disclaimers, so the limitations in this paragraph may not apply to you.
Choice of Law and Jurisdiction
These Terms of Use shall be governed by the laws of the State of North Carolina, in the United States of America without regard to any conflict of laws provisions. You hereby irrevocably consent to the exclusive jurisdiction of the federal and state courts located in the State of North Carolina in the United States of America in connection with any and all suits, actions or other proceedings arising out of or in connection with the Sites or these Terms of Use. Butterball controls and operates the Sites from its offices in North Carolina in the United States of America. Butterball makes no representation that the Sites, the Content, and/or the products featured on the Sites are appropriate or available outside the United States. You agree that any claim or cause of action you may have arising out of or in connection with the Sites or these Terms of Use must be commenced within one (1) year after such claim or cause of action arises, or be forever barred. Butterball's failure to insist upon or enforce strict performance of any provision of these Terms of Use shall not be construed as a waiver of any provision or right. If any provision of these Terms of Use is found by a court of competent jurisdiction to be invalid, you agree that the court should endeavor to give effect to the intentions as reflected in the provision, and the other provisions of these Terms of Use remain in full force and effect.
Submissions
By submitting, disclosing, or offering any recipe, review, photograph, image, video, "favorites" list, comments, feedback, postcards, suggestions, ideas, notes, drawings, concepts, and other information, content or material, or other item (each, a "Submitted Item") to Butterball, either online or offline and whether or not solicited by Butterball, you hereby grant to Butterball an irrevocable, nonexclusive, perpetual, worldwide, royalty-free right and license to use, display, publicly perform, modify, reproduce, publish, distribute, make derivative works of, sublicense, and otherwise commercially and non-commercially exploit your Submitted Items and all copyright, trade secret, trademark, or other intellectual property rights therein, in any manner or medium now existing or hereafter developed (including but not limited to print, film, or electronic storage devices), and the exclusive right to use, display, publicly perform, modify, reproduce, publish, distribute, make derivative works of, sublicense, and otherwise exploit all such materials on commercial websites, without compensation of any kind to you or any third party.
You hereby represent and warrant (a) you have all necessary right, power, and authority to grant the license set forth herein to your Submitted Item, and (b) your Submitted Item does not violate, misappropriate, or infringe any copyright, trade secret, trademark or other intellectual property right of any third party. You will take, at Butterball's expense, any further action (including, without limitation, execution of affidavits and other documents) reasonably requested by Butterball to effect, perfect, and confirm the license granted to Butterball to your Submitted Item as set forth herein.
Publication or use of any Submitted Items is at the sole discretion of Butterball and Butterball is under no obligation to publish or use any Submitted Item. If your Submitted Item is published, used and/or posted on the Web site or otherwise used by Butterball, we may include your name, likeness, photo or biographical information in conjunction with such publication, posting, or use. By submitting, disclosing, or offering a Submitted Item, you hereby grant Butterball the right to use your name in connection with the publication, use or posting of your Submitted Item. You must include your full name and e-mail address with your Submitted Item so we can contact you if we have any questions about your Submitted Item; however, only your name and not your e-mail address will be published with your Submitted Item.
User Conduct
This Web site might include discussion forums or other interactive areas, including, but not limited to, bulletin boards, and recipe storage and exchange areas. All such forums and interactive areas shall be used only for non-commercial purposes. You are solely liable for any material you upload or transmit to the discussion forums or interactive areas of this Web site. You agree not to use the Web site to do any of the following:
Upload, post, e-mail, transmit, distribute or otherwise publish any message, information, text or other material ("Material") that may be considered to be unlawful, harmful, libelous, tortious, defamatory, obscene, vulgar, pornographic, indecent, lewd, harassing, threatening, invasive of privacy or publicity rights, abusive, inflammatory, hateful, or racially, ethnically or otherwise objectionable;
Upload or transmit any Material that would constitute or encourage a criminal offense, violate the rights of any party, or that would otherwise create liability or violate any local, state, national, or international law, and relevant regulation or any financial or securities system rules;
Upload, e-mail, transmit, or otherwise make available any Material that might infringe any patent, trademark, trade secret, copyright, or other intellectual or proprietary right of any party;
Impersonate any person or entity or otherwise misrepresent your affiliation with a person or entity. Online impersonation can violate the criminal law in some states;
Without Butterball's written permission, distribute, publish, or make available any unsolicited or unauthorized promotions, advertising or solicitations for funds, goods or services, including junk mail, spam, and chain letters;
Harm other people or their interests in any way; or
Upload, post, e-mail, transmit, or otherwise make available any Material that contains software viruses or any other computer code, files, or programs designed to interrupt, destroy, or limit the functionality of any computer software or hardware or telecommunications equipment.